The UK's first online retail platform for convenience stores
www.cornershoponline.co.uk Ecommerce Platform - Case Study
The platform is a collaboration between this software house and a group of active retailers. The aim of the platform is to promote digital services to convenience retailers.  The www.cornershoponline.co.uk platform allows consumers to shop locally at their convenience and provides our retail partners with the opportunity to take their stores online.
We create hassle-free hosted Cornershop Online sites that are built from the ground up to showcase a local stores product library, however big or small.
The platform is multi tenanted and already features dozens of stores from all over the UK. It is the first digital platform to provide E-commerce services specifically for the convenience sector.

PLATFORM FUNCTIONALITY
The platform has been designed to meet all the digital needs for a retailer and therefore goes beyond just offering E-commerce centric functionality. Each business registered on the platform benefits from the following functionality.
Personalised URL – Each store has its own personalised URL. This means that customers can find their local store by visiting the Cornershop Online platform and searching by location or a retailer can simply advertise their own unique web address directly to their customers.
Store Profile - Each store features their own landing page that contains important store level information that is important too customers. The store profile page showcases

Store images
Store address
Store opening hours
Store services
Store owner details
Social Media links

Contact Page - Customers are able to view a stores address, telephone number, email address & Google map listing.
News Section - Retailers can easily create and publish local news articles to drive traffic to their website.
Offers Page- Retailers can showcase their latest in store promotions in one easy to find location. This "digital leaflet" is E-commerce ready so customers can start to add promotional items directly into their basket.
E-commerce- Retailer are able to upload their complete product catalogues and allow customers to place online orders for home delivery or click & collect.
Secure Checkout - The platform is integrated with Sagepay who securely handle the complete checkout process. 

We have experience of successfully integrating with Worldpay, PayPal & Capita payment services on other projects.

SSL Certificate - Customers know they can shop safely & securely as the platform benefits from our Level 1 PCI DSS compliant shopping cart & hosting featuring 128 Bit SSL Encryption.

For shoppers this means their data & identity is protected and secure. For shop owners it shows how serious we are about security and their customers trust.
The platform is built using our own shopping cart which has been designed by us from the ground up. Therefore the platform is completely bespoke and is not reliant on any third party activity. It has an unlimited potential for future development.
BRANDBANK INTEGRATION
The platform is integrated into Brandbank, a world leader in providing rich digital content. Each store featured on the platform is fully EU1169 compliant, as our partnership with Brandbank allows the platform to source imagery and nutritional data for thousands of every day products.
EPOS INTEGRATION
We have integrated into back office and EPOS systems where specifically required by individual retailers. Back end integration has required significant co-ordination with existing POS suppliers.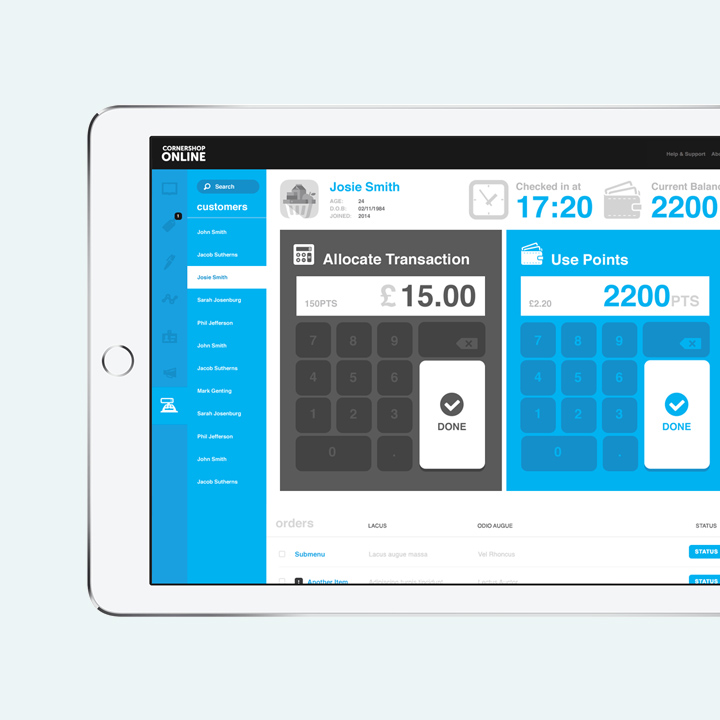 Admin Tool & Back end functionality
All retailers are provided with access to a comprehensive web based back end solution that provides easy content management and constant access to live orders; pick sheets; current stock levels & instant reporting functionality.