SimplyFresh Loyalty App
SimplyFresh UK - Case Study
SimplyFresh UK is an upmarket grocery store chain that focuses on local and best of British products anchored by an organic healthy range of food. SimplyFresh briefed us to develop an innovative digital platform that would allow their retailers and chosen suppliers to communicate directly with their end user. 
THE SOLUTION
The SimplyFresh Loyalty App is available on all major App platforms (IOS. Android & Windows). The product is a multi-tenant solution that provides all SimplyFresh stores with a complete digital presence. The solution is unique as each individual SimplyFresh site acts as its own entity that can be fully controlled & customised at store level.

Functionality
The platform has provided all SimplyFresh retailers with the ability to benefit from the following functionality;
Promotions marketing – Retailers can provides customers with accurate details of their latest in store offers. The platform is fully integrated to Brandbank so they are able to utilise the highest quality of product imagery.

The platform automatically displays all leaflet promotions every promotional period. Retailers can edit/remove these promotions as they wish. In addition they can create their own local promotions.

Digital Vouchers & alerts - Retailers can create and send unique vouchers to individual customers for use in store. Our partnership with i-movo provides our clients with access to a world leader in voucher redemptions.
Push Notifications - Retailers can send App users alerts directly to their devices.
Smartphone Loyalty -

Retailers can reward their customers for shopping in store. All retailers are part of a centrally controlled smartphone based loyalty scheme that allows customers to win monthly prizes. Retailers can also operate a digital loyalty card scheme that rewards customers based on total money spent in store.

 
The platform has provided SimplyFresh head office with the following functionality;
Promotions marketing – SimplyFresh UK can centrally update all their stores with the very latest leaflet promotions.
Digital Vouchers & alerts - SimplyFresh UK can now work with selected suppliers to drive footfall into stores by issuing App users with digital vouchers. Vouchers can be redeemed in store and the retailers are quickly reimbursed any costs.
Push Notifications - SimplyFresh UK have the ability to send push notifications to all/any selection of App users. Suppliers can target a particular audience based on consumer preferences which are recorded by the App.
Smartphone Loyalty - SimplyFresh UK now operate a two tiered loyalty rewards scheme that runs through the smartphone App. 

Loyalty Programme 1 - App users can use their device to "check in" when in store. Utilising geofencing technology the platform is able to determine to an accuracy of +/- 2m the exact location of the device. If the customer is in store they are awarded with an additional raffle entry to a monthly prize draw.


Scheme requires no capital investment for either SimplyFresh UK or their retailers.
No EPOS integration required.
No additional workload placed on retailer.

Loyalty Programme 2 - A digital loyalty card scheme that rewards customers based on their total spend and what products are contained within their basket. Every time a new customer downloads the App they are provided with a unique barcode that identifies the customer at checkout. Points are allocated to the customers account dependent on total basket spend and what is contained within each basket. Points can be redeemed in store for prizes or money off vouchers.
Data warehouse
The SimplyFresh mobile platform has the capabiltiy to collect a huge amount of data on customers that shop within SimplyFresh stores. Data collected via the App includes;
Gender & Age.
Promotion preferences e.g. Grocery; Wines or Soft Drinks.
Frequency of visit to store.
Total spend in store.
Breakdown of individual items purchased in store by GTINs.
SimplyFresh UK are able to use this data to guide management decisions to sustain future growth. Suppliers are also keen to analyse this data as it provides key insights into typical convenience channel customers. The collected data can be used to better target the correct audiences for digital voucher campaigns, which will increase footfall to all SimplyFresh stores.
"Data by itself is useless. Data is only useful if you apply it." Todd Park
EPOS INTEGRATION
The mobile platform is fully integrated with SimplyFresh UK's CPOS system. Customers are able to scan their unique ID at the self checkout machines and at the manned checkouts, this allows the platform to match transactions to individual customers and award points based on the total amount spent. Points earned can be redeemed during checkout and the customers points balance is updated on the App in real time.
Digital vouchers sent directly to a customers device can be scanned at checkout and instantly redeemed.
* CPOS is installed in over 50% of SimplyFresh UK stores. Stores with alternative EPOS systems either only operated Loyalty Scheme 1 or a separate integration process was initiated with their relevant EPOS system provider.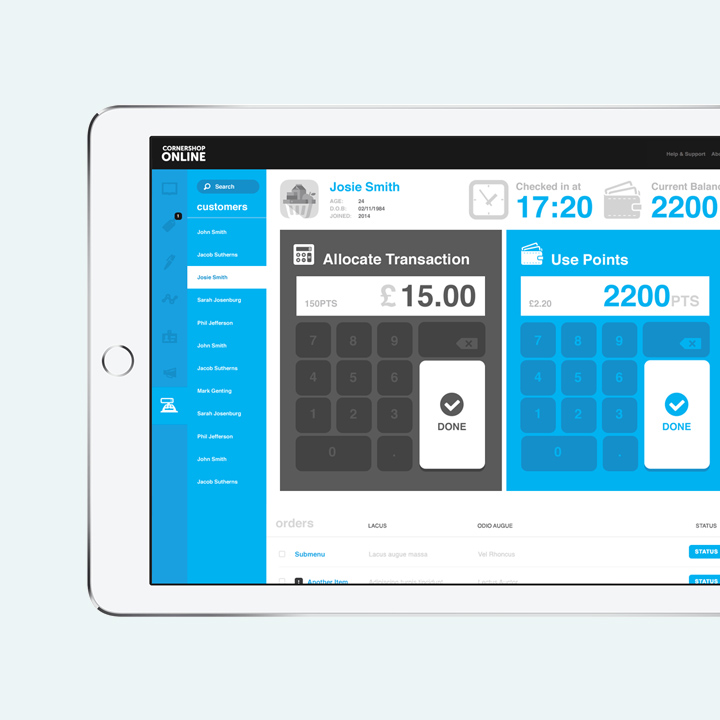 Admin Tool & Back end functionality
The mobile platform was accompanied by a comprehensive web based back end solution that provided easy content management and reporting functionality.
SimplyFresh UK head office have been issued with a number of login credentials with varying degrees of security clearance and system access. This has allowed BDMs to manage only their store estate whereas upper management have access to all stores and can see a birds eye view of all stores. 
SimplyFresh retailers were all provided with their own credentials that could be used to administer their individual store.
Head office are able to make changes at individual store level or across the whole estate at the same time. Digital vouchers & push notifications can also be sent to all App users or custom groups can be targeted via the dashboard.
Results & Performance
Initial results have been very encouraging with high degrees of consumer engagement. 
Thousands of consumers have downloaded the App and 80% of these users use the App at least twice a week.
The platform is averaging 100+ check ins each day.
Push notifications & digital vouchers are being used/opened by over 20% of users.