SimplyFresh Loyalty App wins Symbol initiative of the Year
Retail Industry Awards 2016 - SimplyFresh Loyalty App wins Symbol initiative of the Year
Newtelligence Ltd & our client SimplyFresh UK Old Oak branch have won the Digital Engagement Award at the prestigious Retail Industry Awards 2017 for the deployment of the SimplyFresh Loyalty App Digital Loyalty Card Scheme.

THE SOLUTION
The SimplyFresh Loyalty App is available on all major App platforms (IOS. Android & Windows). The product is a multi-tenant solution that provides all SimplyFresh stores with a complete digital presence. The solution is unique as each individual SimplyFresh site acts as its own entity that can be fully controlled & customised at store level. The store at Old Oak was the first SimplyFresh branch to roll out our digital loyalty card system that allows app users to collect points for their basket spend in store. The scheme allows SimplyFresh to send personalised offers directly to consumers based on their past buying habits.
Independents from around the country descended on London's Grosvenor House hotel to discover the winners of this year's Retail Industry Awards.
Simply Fresh was one of the big winners at this year's Retail Industry Awards after it scooped the title of Symbol/Fascia Group of the Year for the first time, while also picking up the trophy for best Symbol Initiative.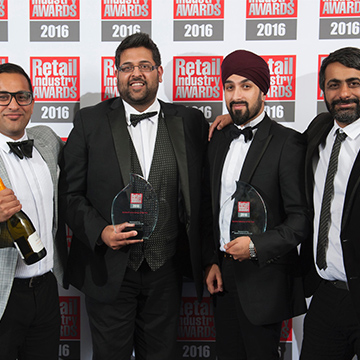 The awards took place on 29 September at the five-star Grosvenor House hotel on London's Park Lane and saw the UK's top independents honoured alongside the nation's leading multiple grocers.
Simply Fresh impressed the awards judges with its sheer energy and innovation, as well as its trademark focus on fresh produce and healthy food-to-go.
Over the past year, the group has rolled out its Simply Fresh Kitchen concept featuring food-to-go counters serving "restaurant-quality" salads, sandwiches, pizzas and hot boxes. It was also chosen to run a pilot store for the NHS in Scotland, putting a c-store serving 50% healthy options into a hospital environment for the first time.
Further initiatives included the launch of a new food-to-go range, an upgraded consumer website and a loyalty app featuring bespoke promotions.
Judges also praised the forward-looking attitude within Simply Fresh, including its focus on sustainability and effective engagement with local communities.
"I take my hat off to them," said one judge. "They are trying to find a position that is unique. They have made a space for themselves and have done it their own way."
Loyalty scheme
It was the group's loyalty app that earned top spot in the Symbol Initiative of the Year category, with the judges liking the fact Simply Fresh had developed the product itself. Others praised the app's exclusive, limited-time offers, designed to encourage regular consumer engagement.
Simply Fresh managing director Kash Khera said it was an "amazing feeling" to have won both the Symbol/Fascia Group and Symbol Initiative of the Year awards.
Other links
http://www.talkingretail.com/category-news/independent-news/simply-fresh-wins-fascia-year/