SimplyFresh Loyalty App wins Digital Engagement Award
Retail Industry Awards 2017 - SimplyFresh Old Oak wins Digital Engagement Award
Newtelligence Ltd & our client SimplyFresh UK have won the Digital Engagement Award at the Retail Industry Awards 2017. The award recognised the successful deployment of our digital loyalty card system delivered via the SimplyFresh Loyalty App at the Old Oak branch.

THE SOLUTION
The SimplyFresh Loyalty App is available on all major App platforms (IOS. Android & Windows). The product is a multi-tenant solution that provides all SimplyFresh stores with a complete digital presence. The solution is unique as each individual SimplyFresh site acts as its own entity that can be fully controlled & customised at store level.
Talking Retail 
https://www.talkingretail.com/events/awards/ria-2017-winner-digital-engagement-award-independent-10-10-2017/
Mehmet Güzel, who owns Simply Fresh, Old Oak, has successfully implemented a strategy to embrace technology, including the use of an in-store app and social media platforms.
His Simply Fresh app not only highlights in-store deals and voucher campaigns, but also boasts an integrated digital loyalty card, which was a firm favourite among judges. One judge said: "Güzel's in-store app is incredibly easy to navigate, which is a huge plus for shoppers". The app now has more than 500 users.
Getting to know his customers is of huge importance to Güzel, who is collecting individual data from each app user in order to generate bespoke deals, offers, and products specially tailored for every customer.
One judge said: "The use of data collection shows Güzel really wants to get to know his customers on a personal level and wants to understand his customers' individual needs from a local shop." The app has also given him and his staff the ability to communicate directly with suppliers.
A heavyweight social media strategy has been an ongoing task for Güzel. He used social media to create excitement within the local community around the launch of his new store, and even communicated with local businesses to ask them to help raise awareness on their own social media accounts. This resulted in 300 people attending the opening.
Social media accounts have also been used to promote the app, by creating targeted campaigns to highlight exclusive app competitions.
This strategy really impressed the panel, with one judge saying: "With regards to social media, this is what everyone should be doing. By creating an ongoing strategy of social media engagement, he is creating a stronger relationship with his customers."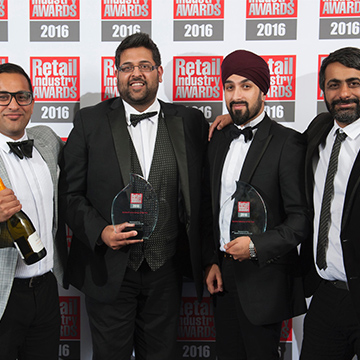 Loyalty scheme
The digital loyalty card scheme is the only one of its kind within the convenience sector in the UK. App users are able to instantly collect points on money spent in store and SimplyFresh are able to collect valuable data to send customers personalised offers to drive sales.
Simply Fresh managing director Kash Khera said it was an "amazing feeling" to have won the Digital Engagement Award.
Other links